A watch or necklace made of wood: Creative Use of technology!
At Creative Use of Technology they have besides a wooden one watch or phone case also wooden jewelry, coasters or wall decorations. If you are looking for a unique (personal) gift for Christmas or St. Nicholas, take a look now.
Creative Use of Technology
When you think of jewelry or phone cases, nothing quickly comes to mind when you think of wood. Yet you see it more and more often with products. And very surprising products made of wood, think of jewelry, watches, coasters, clocks and lighting . This is what you can find at Creative Use Of Technology
Wooden watches
A new watch always comes in handy and when I had the opportunity to look around the site of Creative Use of Technology I found a very special watch. A bamboo wooden watch with a leather wristband. The bamboo watch is a real eye-catcher. The watch combines a high quality Japanese Quartz movement with a durable material, bamboo or sandal wood, giving it a luxurious natural look. The wooden watch features a strap made of a soft quality genuine leather.
You can also choose a wooden bracelet instead of leather. This watch costs € 49,00
An extra surprise with the watch
The watch is very stylish. The diameter of this watch can be in 4.3cm or 3,6cm. Both watches are suitable for men and women. Which size fits you best depends on taste and the size of your wrist.
I chose the 3.6 cm and it looks good on my thin wrist. The leather strap is stylish and tough! The watch wears well and goes with everything.
If you wish, a unique personal text can be engraved (for €15.00) in the back of the watch with a laser engraving machine. This could be a name or date, or another personal message.
The addition of a personal message makes this watch a unique gift for example Valentine's Day, an engagement gift, a wedding gift or gift for your witnesses and of course a personal birthday gift or farewell gift from a colleague.
Surprising necklaces
With the holidays coming up, I was looking for a new necklace. I love jewelry and wire it a lot. Again I succeeded at Creative Use of Technology. There are different necklaces.
Like the watch, I chose a wooden ornament but this one is inspired by the amazing cellular structures found in nature. Beautiful with a nice dress with cleavage during the holidays.
The necklaces of Creative Use of Technology are designed on the shape of a woman's neck and are lightweight and therefore easy to wear. They look best with open-necked clothes and are suitable for all sorts of occasions.The wood is laser cut from FSC certified Birch wood. The link chain and clasps are made of antique bronze.
What was super is that the wooden necklace came in a nice jewelry box. This makes it not only fun to give as a gift, but after wearing it I also put it back safely. The necklace looks like gold but because it is made of wood it is very lightweight.
I get a lot of positive comments about my necklace, because it does stand out!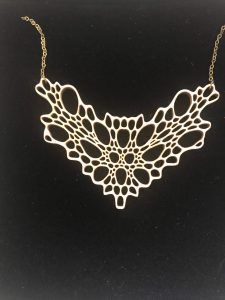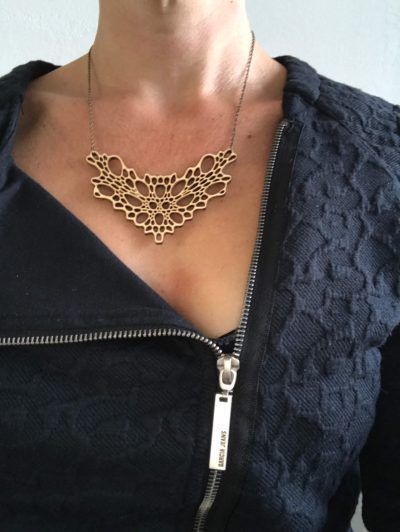 Unique gift for Christmas or St. Nicholas
Are you still looking for a unique piece of jewelry for Christmas or St. Nicholas take a look at the site of Creative Use of Technology. So much choice in wooden products! There is something for you between.

foto's lodiblogt/ free image via Pixabay