Froggit, the family game from SmartGames
A family game from SmartGames! This is new. After all the games for one person, SmartGames now comes up with the party game Froggit. A game for young and old! In the well-known cheerful colors and design.
Hop along?
What are SmartGames?
Smart games are logical thinking games that allow children to learn cognitive, social and language skills while playing. Probably you know them, have them at home or the kids know it from school. Because they are played a lot there too.
Due to the great diversity they are incredibly popular. All challenging games and they look super fun too. The games were always for one player, until SmartGames came up with the family game 'Froggit'.
The games from SmartGames
SmartGames' games stand out because of their fun look and bright colors. Smartgames include pocket version, which you can easily take with you on the road and there are lots of variations for at home, such as Atlantis Escape. Until now these SmartGames were for one person, but recently a family game was added 'Froggit'.
Froggit: Jump across the pond
The family game Froggit is all about getting your frogs safely across the pond. Here you have to prevent other players from doing the same. By moving the fish, you can chase an opponent's frog back to the starting bank.
The first frog family to reach the other side of the pond safely wins the game.
It is a game in which you have to think flexibly, plan well and frustrate your opponents. It is an exciting game for young and old! For two to six players.
Have fun with this family game
Now we are already big fans of SmartGames at home and were also very curious about this family game. What immediately stands out are of course the frogs, how fun is it to play with these for once, instead of pawns. The round plate is put on the table and everyone starts with 2 big frogs and 3 small ones. You start at the half moon, where your color frog is and you have to jump to the other side.
This can be done by jumping. Take turns taking steps, but be careful! Move these with care and think carefully, because if one of the players has reached the other side, he or she may move the fish.
Are you standing in the spot where the fish lands, then you start all over again with your frog. Whoever reaches the other side first with all frogs, has won.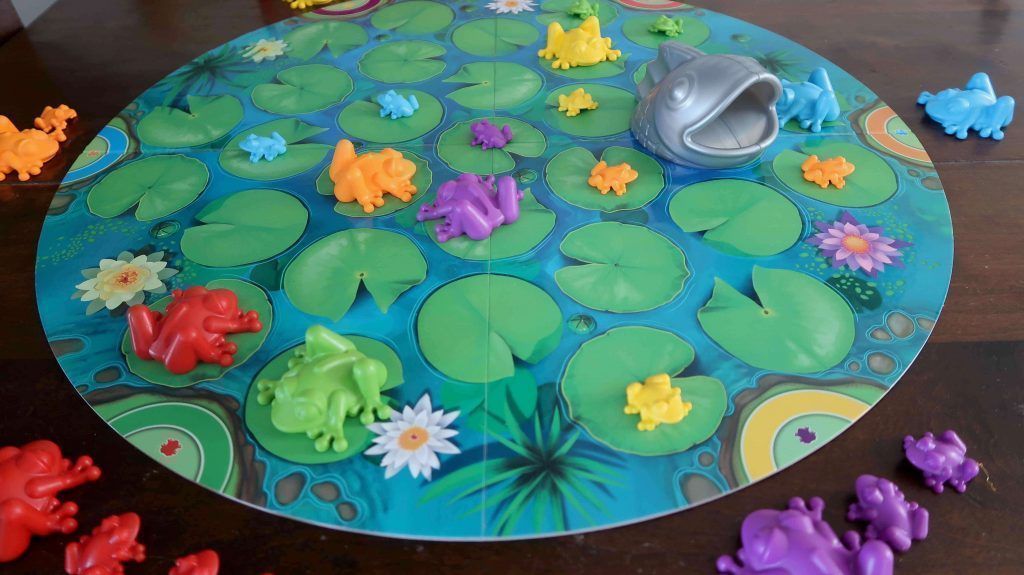 Playing tactically and thinking carefully
Froggit is an incredibly fun game, you have to think carefully, play tactically and you can tease another a bit by sending his frog back to the side. The game takes about 20 minutes. We have only played the junior version so far, but like all SmartGames there is also an expert version. What is also really obvious SmartGames are the cute characters and the cheerful board that is played on.
As far as we are concerned, this family game worked out well!