Book Review: Healthy on weight with good food!
For a few months now I eat low -carbohydrate, not strict, but I do pay attention to what I eat. I get recipes from Pinterest or from books. Such as the book healthy on weight with good food! From losing weight with the Netherlands.
What kind of book is this now and what do you find here next to recipes?
Losing weight with the Netherlands
Let me say that I don't have to lose weight, but I do want to be healthy on weight and then of course with good food. In September last year I started with low carbohydrate food and I feel great now. I am not strict, I also drink a glass of wine or a beer and on Saturday evening there will also be a toast on the table. Precisely because I do this, I keep the healthy food full. Well it is not a punishment either, because to be honest, I eat delicious dishes.
What I mainly started to change is more vegetables and less bread, sugar and potatoes (pasta, rice).
Healthy on weight
Now this book is healthy on weight with good food! From losing weight with the Netherlands initially aimed at losing weight, but also for people like me, it is a great book to follow. Because it is bothered with healthy recipes and training exercises.
Healthy on weight according to losing weight with the Netherlands
Healthy on weight with good food! is the newest book of losing weight with the Netherlands. Come on your target weight with this protein-rich and low-carbohydrate lifestyle program, supported by movement. It is a practical recipe book that helps to achieve and maintain your target weight in a responsible way.
What says losing weight with the Netherlands about the book. " The book Healthy on weight with good food! Contains a complete 10-week program with attention to nutrition and exercise; Including handy schedule ' s, shopping lists and a part motivation course. Jeroen van Egmond, writer of this book and his team hope to inspire and provide tools with this book and the accompanying diet platform to get to your target weight. Healthy on weight with good food; It has never been that easy!'
What's in the book
The book starts with an introduction about healthy eating. I have had a practice as a weight consultant for years and what is written here is exactly what I also told my clients when they came into my practice. Clear information, about how and why in terms of food.
You can calculate your own energy requirement, explain the 80/20 rule and things that you can encounter.
Then the book The Week Menu ' s. These start with a shopping list for that week and then two weeks are written out. They assume six meals a day. Breakfast, lunch and dinner and three snacks.
Subsequently, week 1 and 2 were worked out with ingredients lists and preparations. Week three is a copy of week 1 and week 4 of week 2. Then week 5 and 6 were expanded again and the next two weeks copy. week 9 extended and 10 a copy of week 6. Enough tips for recipes and week menu ' s.
Training schedule ' s
There is also healthy weight with good food! A whole piece about moving, exercise advice and training schedule ' s. These training sessions are 30 minutes and are slowly built up. There are also Video ' s available from the exercises on the site.
There are clear Do ' s and Dont ' s during the exercises and clear photo ' s that you can get started with.
Why do I like the book
What is immediately noticeable is the cover, it is very sturdy and I personally love this with a book that I use a lot. The photo ' s of the recipes all look very nice and invite to prepare the recipe too. But now the book itself.
I did not literally follow the week menu ' s. Because I don't eat six meals a day myself, but I have tried a lot of the recipes. I was mainly looking for lunches and dinner recipes and I certainly enjoyed this.
The recipes are easy to prepare and the groceries I had to do to all find out. I always like this myself. I don't have to spend hours in the kitchen for a healthy dish.
There is of course enough choice of recipes in this book.
Varied recipes
The recipes are incredibly varied. The evening meals are all fine in my opinion, there is a lot of variety in fish and meat, lots of salads, vegetables and everything is well written out ' How to prepare '. For lunches you have a sandwich one day and the next day a salad, so you get enough nutrients. Each dish also states how many of these nutrients you get.
There are alternatives products listed so you can see exactly which milk products you can take the best for example.
The training schedule ' s also look good. I can't do everything because of knee problems, but I make a combination for myself with the exercises I can do and these are easy to do.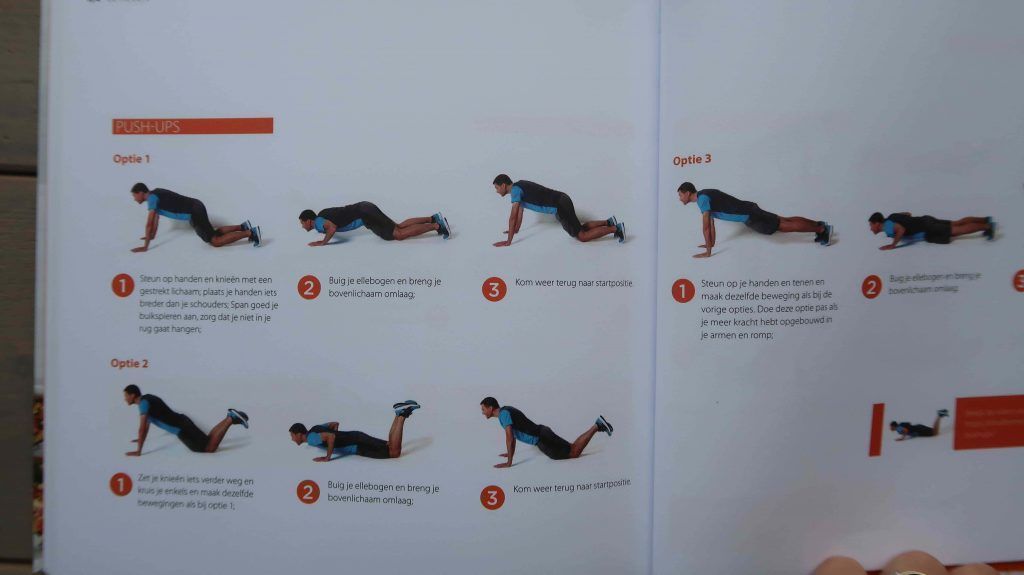 The dishes are very tasty
I made a number of dishes from the book, including lunch dishes; Vegetable pipple soup and tuna salad, these were just all the other recipes that I tried, delicious. As I already wrote, the photo ' s greatly invited and the recipes are clearly described.
What I had misunderstood
In the end there are five weeks menu ' s in healthy weight with good food! Because the weeks are copied once. So what you eat on Monday week 1, you also eat exactly on Monday week 3. This is of course fine, there is enough variety and so you could certainly get a varied meal.
So it is true that it is a 10 -week program, but there are not 10 weeks menu ' s as I initially thought. I also find the amount of vegetables a lot in some recipes. For example, there is an evening meal of baked salmon fillet with 400 grams of green beans. Now you do not eat potatoes with this, so I understand that there must be more vegetables, but I would then opt for a mix with a different vegetable, or some tomatoes there.
This for the variation, but that is personal.
Healthy on weight with good food!
All in all, I am satisfied with the recipes that in healthy weight with good food! to stand. The book is clear in terms of information about losing weight and healthy eating. The recipes are quick and easy to make and are also very popular with the rest of the family. I have a lot of recipes and make the stir -fry dish from week 1 tonight.