A round trip through Canada, discover the overwhelming nature
In 2011 we traveled with our family for seven months in an RV through America and Canada. I had been to America before, but never to Canada. Today I take you to some beautiful places in Canada!
Take a look?
A long trip
In 2011 we took a sabbatical to travel through America and Canada. What was fixed was the start and end point and further we had a number of wishes of what we wanted to see and do. During the trip, however, our plans changed several times. We left San Diego in March and planned to be in Toronto Canada around May. We would stay in Canada for two months and then return to America via Seattle.
This was the plan, but it went very differently.
Changing plans
The trip did start in San Diego and about the National Parks in the western part of America I wrote about before. However, our plans on day one were already thrown into disarray. We drove from San Diego to the Arizona border, arrived at a campground with many pensionada's from Canada who asked us about our plans.
She immediately warned us that it was still too cold in Canada in May. The national parks we wanted to visit were then not accessible at all. Now we just started the trip and took their advice to heart.
The parks in Canada
We finally arrived in Toronto in early May. We crossed the border at Niagara falls. We visited it from the U.S. side one day and from the Canadian side the next, taking a boat trip. We visited Toronto, a surprisingly nice place with different neighborhoods.
And then drove via beautiful roads to Thunder Bay. Along the way there was still so much snow that we decided to go back to America first. Also because the road from Thunder bay to Banff National Park, was super long.
We re-entered America at North Dakota and first visited several National Parks here, before entering Canada again via Montana. Meanwhile it was June and the better weather was coming.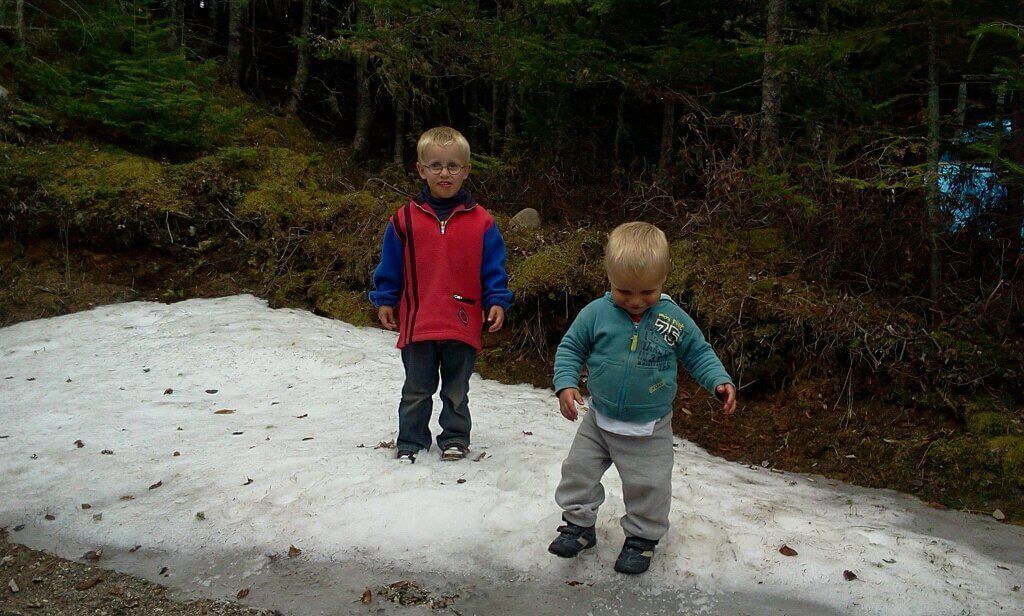 Banff
The first destination on the west side of Canada was Banff. In the area of the Rocky Mountains there are several large national parks of which Banff, Yoho and Jasper are the best known. These three parks are close together.
Banff National Park is the oldest natural park in Canada. There are several glaciers, mountains and rivers in this park. We were on a campsite which we had never experienced before. The campers were all in a row, as if we were in a traffic jam.
A great campground by the way. In Banff we made some beautiful hikes. Among others the one to the top of Tunnel Mountain.
The town of Banff itself is also very nice to visit.
Lake Louise and Moraine Lake
Lake Louise is perhaps the most famous lake in Banff. The lake is so beautifully blue. You can walk all the way along the lake and always keep beautiful views. a super fun hike here is to Lake Agnes. Lake Agnes is a small mountain lake about 3.5 km from Lake Louise.
Also in Banff you will find Moraine Lake, again beautiful, but not as beautiful as Lake Louise, was our opinion.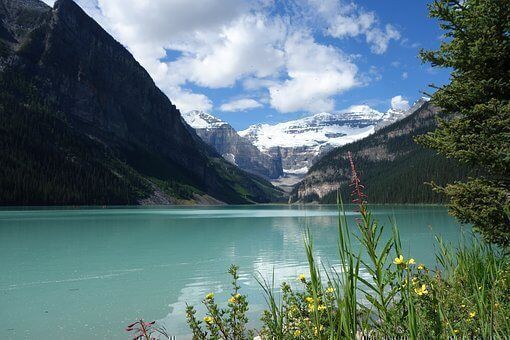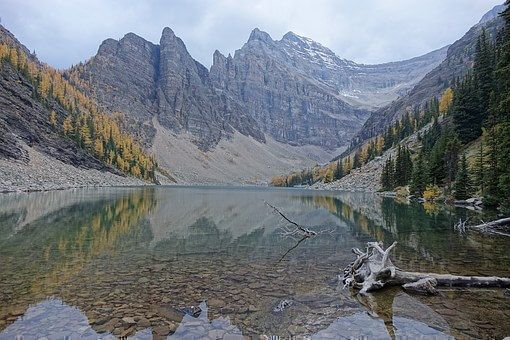 The beautiful Yoho
We stayed a few days at the campground in Banff and drove from here down to Yoho National Park, where we actually went especially for the Spiral Tunnels. With a (model) train fan in the house, we had to go here. The Spiral Tunnels are two turning tunnels in the transcontinental railroad of the Canadian Pacific Railway (CPR). In these tunnels, the locomotive passes under or over its rear cars both times to cover the difference in elevation. The tunnels were commissioned in 1909 and were considered an engineering feat at the time.
We were lucky while we were here because just as we were getting ready at the viewpoint, a train arrived.
Icefield Parkway
To get to most of the sights, there is the 230-km (143-mile) Icefields Parkway (Highway 93) from Lake Louise in Banff National Park to Jasper. We drove this road twice. The first time up to Columbia Icefield. This is the biggest attraction on the Icefields Parkway.
You can board the Ice Explorer, big bus with tracks, that can drive on ice and snow. Taking a tour of the vast ice field. The tours depart from the Columbia Icefield Discovery Centre.
We found this a spectacular experience and the boys especially liked the 'monster truck' very beautiful.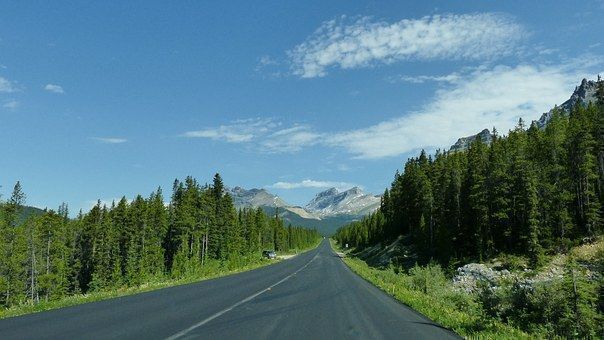 Traveling to Jasper
The second time we drove the Icefiels Parkway was to get to Jasper National Park. The campground near Jasper was beautiful. Many campgrounds in America and Canada allow for barbecues and campfires, also there is almost always a table and benches at your camping spot.
I don't know if it was because we were so spoiled by Banff National Park, or because of the many bears we saw near Jasper, but we didn't do any really nice hikes here. We hiked along Geraldine Lake, but I expected a bear on every corner, so it wasn't really relaxing, After two days of Jasper, we decided to head for Vancouver and Vancouver Island.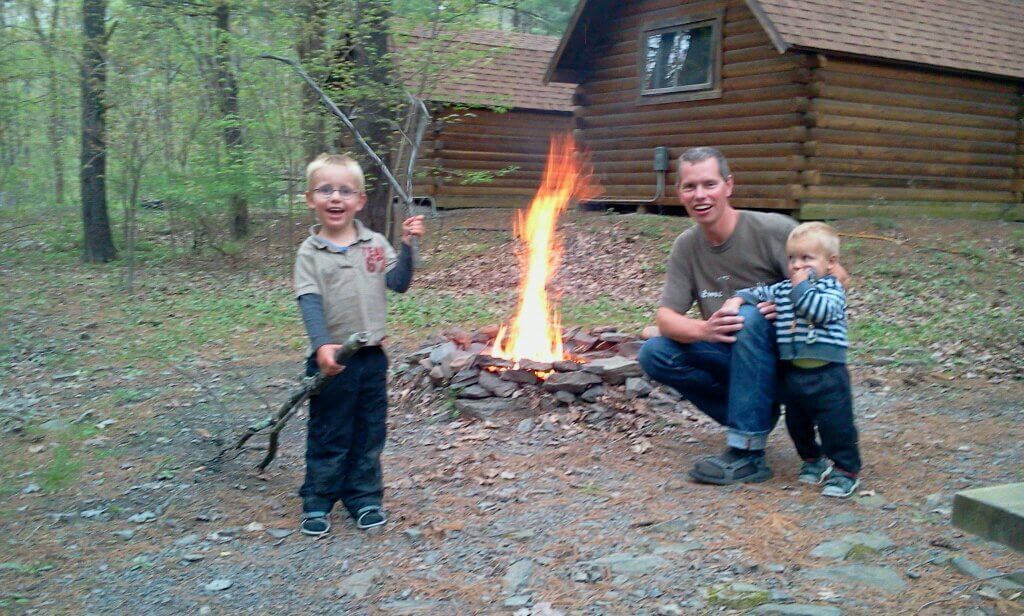 Vancouver and Vancouver Island
Vancouver was beautiful with its various neighborhoods and the magnificent Stanley Park with its totem poles, but the adventure really began on Vancouver island. After a half hour boat ride, we arrived here. After we visited Victoria, the capital of the province of British Columbia. After that it was just nature we saw for a couple of weeks. Highlights were hiking in the Goldstream Provincial Park.
Whale watching on a boat in Tofino, and Pacific Rim National Park, where we were able to hike beautifully. Vancouver Island, is a place I definitely want to go back to again.
Visiting Canada
When you travel for so long, you sometimes wonder, do we have anything left to see in this country, In Canada I say absolutely yes! The advantage was that we had the time and so we could stay everywhere for a longer time, walk a lot and see a lot. But could also take enough rest days.
Still we have the dream to see more of Canada (and Alaska) one day.