Silky Organic Recover Box- when undergoing chemo, radiation or medication
Today -1 October- starts Breast Cancer Awareness Month. This month is all about taking extra care of everyone dealing with this disease. Now IK Skin Perfection has developed a box that is safe for women and men undergoing chemotherapy.
The Silky Organic Recovery Box. A gift box to give or get.
October month
October is Breast Cancer Awareness Month, which is why this month we are highlighting the Silky Organic Recover Box. This gift box from IK Skin Perfection is a gift box with products ideal for women and men whose skin has been damaged by chemo, radiation or intensive medication!
IK Skin Perfection gift box
When you undergo heavy medication, chemotherapy or radiation, a lot happens to you and your skin during this time. Because chemotherapy and radiation can cause the skin to become drier, you will need to take extra care of it. However, the skin often becomes flaky, hypersensitive, irritated and in some cases can also become itchy. The products from the Medical Collection of IK Skin Perfection are specially designed for the most delicate and sensitive skin.
To alleviate the worst pain, make you feel good and care for and soothe your skin, so you can feel your radiant self again.
The contents
The Silky Organic Recover Box is a beautifully designed gift box with honest and natural beauty products that can be used safely even for the most severely stressed skin. Treat yourself – or someone else – to another moment of happiness! The products in the Silky Organic Recover Box are completely vegan. What will you find in this box:
SILK + 3 in 1 cleanser pH 5.0
SILK is an ultra gentle, very mild cleansing milk, lotion with pH restorer and eye makeup remover in one. It removes sebum and dirt before they have a chance to clog pores. This mild and creamy emulsion is rich in vitamins that stimulate energy supply and new skin cells.
Where the nourishing and protective green cosmeceuticals ensure satin-smooth skin, even for very sensitive skin.
DE-ITCHY + medical skin oil pH regulated
DE-ITCHY is a rich oil, especially suitable for sensitive and irritated (head) skin. The DE-ITCHY + is easily absorbed by the skin and contains many antioxidants and vitamins. The oil soothes, calms, repairs and renews skin damaged by intensive medication use, chemicals, environmental and weather conditions.
RECOVER + sensitive repairing cream pH 5.2
An ultimate gentle and soothing skin restorer that nourishes, repairs, hydrates and provides immediate relief to extremely sensitive and fragile skin. RECOVER+ provides first aid for stressed, dry and irritated skin. Because green cosmeceuticals ensure that the pH of the skin is restored, providing optimal protection.
RECOVER + repairs, soothes, nourishes and protects the skin and provides an intense feeling of comfort and a silky-soft result.
LIP+ 100% vegan IipbaIm
This lip balm instantly softens and repairs even chapped lips. It protects
prevents dehydration and keeps your lips supple. This ultimate vegan balm provides instant comfort.
The beauty box for chemo. radiation and intensive medication
The Silky Organic Recover Box is a beautiful gift box with honest and natural beauty products. The products in this gift box can be safely and carefree given as gifts. If people have very sensitive skin there is the Silky Organic Recover Box – Highly Sensitive Skin available.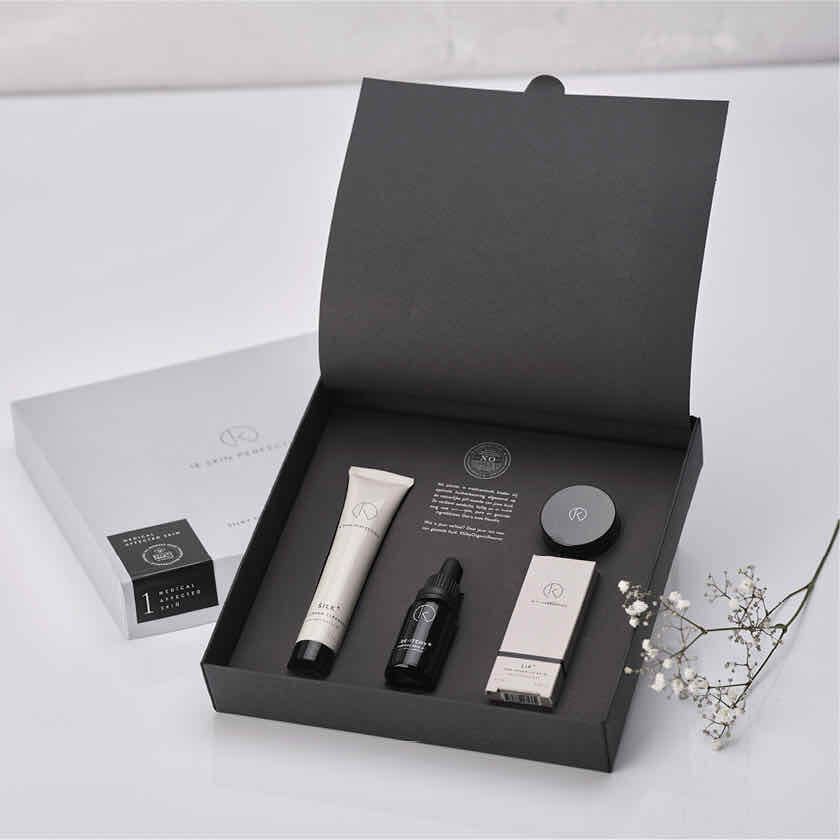 Silky Organic Recover Box (Medical Affected Skin)
Do you have someone close to you who has been diagnosed with cancer or have been affected by this terrible disease yourself? Then give yourself – or someone else – a special gift. This Silky Organic Recover Box from IK Skin Perfection is on sale for € 39,95.
At IK Skin Perfection they believe in the beauty of everyone. Their mission is to enhance natural beauty with proven effective skincare, developed in harmony with nature.