Fruit Pearls, give your bubbles something extra's during the holidays
Celebrate holidays, weekends or birthdays with a bottle of prosecco. But not just a bottle bubbles. As an extra you can get Fruit Pearls from Bitches & Using Bubbles.
These make the bubbles really festive.
Celebrate with bubbles
How nice it is to celebrate a party, holidays, a weekend or an evening together with bubbles and make them even more festive with fruit pearls. I got this one through Bitches&Bubbles.
A weekend away
Before I go on about the fruit pearls, let me tell you a bit more about how we came to go out together like this. My husband and I decided to spend a weekend together. We do this very modified, due to the chronic illness of the boys, but very occasionally they go to grandparents for a weekend and we can go away.
The dunes of Schoorl
We chose Fletcher Hotel – Jan van Scorel in Schoorl. I used to come to Schoorl often. But haven't been there for years. Saturday after dropping the boys off, we first went shopping and then to Schoorl where after checking in we put on our walking shoes and went into the woods for a while. It was a fine hotel, with delicious food.
Both 'evening and in the morning. Sunday we went for a 10 kilometer walk, through the woods, dunes and over the beach. We came back to my parents fully charged.
Bitches&Bubbles
That we are not averse to an alcoholic drink is well known by now. But even I keep discovering something new. So recently we were sitting at home drinking cocktails and now I tried the Fruit Pearls from Bitches & Bubbles.
Pearls that make your bubbles extra festive.
How do these Fruit Pearls from Bitches work & Bubbles?
The package contains two packs of 100 grams. You have the flavors strawberry, blueberry or mango. One bowl of fruit pearls is enough for 0.75 Champagne or Prosecco. Add a teaspoon of these delicious Fruit Pearls to your favorite bubbles.
Be patient for a few minutes and the Fruit Pearls will float. Then sip your drink combined with a Fruit Pearl. A small bite is enough to make the Fruit Pearl pop.
Together in bubbles
Since I brought the bottle and Fruit Pearls, I also needed glasses. I didn't dare bring real champagne glasses, so had plastic wine glasses from the vacation bin. I don't know if it was because of the plastic of the glass, but it took a while (longer than the ten minutes as indicated) for the Fruit Pearls to emerge. But that did not matter and we were only more curious about it. It was well worth the wait.
The Fruit Pearls give a nice flavor to the prosecco, but the moment when you take one in your mouth and it pops, that was just so delicious! The first time you do not know what to expect and after a sip you just want more.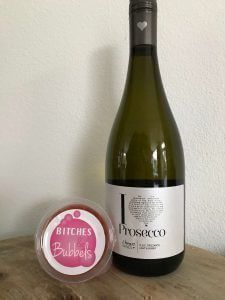 Enjoying Fruit Pearls
The Fruit Pearls not only makes the glass of bubbly extra festive, because of the cheerful pink pearls floating in it. But the surprise every time you get a Fruit Pearl in your mouth is really a taste treat! We are excited and it is really a must for the upcoming holidays and old&New.
Tip is to put the Fruit Pearls in the glasses beforehand (about 15 minutes) and serve them as soon as the pearls have risen to the top.
Supplement March 2021
Recently I was looking through this blog and noticed that the site goes to Bitches& Bubbles no longer exist. Still I think these fruit pearls are sure to be found because what a feast in your glass.